Who is HolidExpress?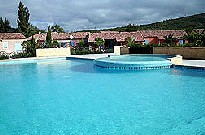 Our concept:

HolidExpress.com is a web site exclusively dedicated to search, comparison and sale via partners, of holidays rental in France, Spain and Italy. This site enables you to find into 1 or 2 clicks the sought products, to compare fairly the offers of the merchants on line, according to criteria (geographical or formula). The results are classified by increasing prices.

HolidExpress proposes almost all the French offer of holidays rental sold by professionals. HolidExpress directs you toward merchant sites to make your booking, once your research ended. Their offer are proposed on main travel web sites selling holiday rentals in France, that is why you really compare almost all the offers of holiday rentals in France, Italy and Spain on HolidExpress.com. Thus, our concept is exclusive since it makes it possible to compare products according to criteria, then buy them in full safety on famous web site partners.

This site proposes in the found results, "Our favourites" which are products, often tested for you, offering the best price per value, in order to guide you in your choice, among more than 400 000 holiday apartments on over 1 000 resorts.

Why a comparator of holidays rental?

First of all, because there is no web site that really makes it possible to compare the offers of rentals by selecting criteria other than tariff of products. Moreover, comparators of prices often present their results according to potential incomes for the site and do not offer a fair vision of the offer of market. We propose a search engine directed to consumers which results match above all their criteria. Moreover, our experience and knowledge of the market enables us to advise Net surfers on products offering the best price per value.

What allows you HolidExpress :

- To seek a product according to criteria among thousands of offers
- To find the best price easily
- To compare similar products
- To buy products on selected partners websites
- To be advised in your choice
- To receive by email offers matching your criteria.

The company:

HolidExpress.com is a website of Vivaweb, French company registered with the RCS of Creteil under number

790 591 572

.

The company is made up of a team of professionals, recognized and specialised in holidays rental in France, Italy and Spain. Our trade consists in developing and managing websites specialized on various offers of holidays rental, residences or clubs of holidays, everywhere in France, Italy and Spain. We are aware that this trade is different the others: our Net surfers trust us on one of their most precious moments of their life, their holidays...


Price per apartment and per week from