1068 rentals with top of the range accommodation (4 stars) available on 03/06/2023
Your holiday rental with TOP OF THE RANGE ACCOMMODATION (4 STARS)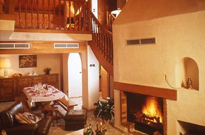 Rating certified by the ministry of tourism and carried out based on criteria such as level of comfort, quality of facilities and customer service.
Campsites and holiday parks :

A maximum of 80 pitches per hectare for campsites and 66 pitches per hectare for holiday parks. Reception staff will speak at least 2 foreign languages, one of which being English.
Holiday residences :
You'll find large accommodation with a minimum surface area of 18m2, including the kitchen area, bathroom excluded. Reception staff will speak two foreign languages including English.
Village de vacances :
Vous trouverez de grands logements 2 personnes d'au moins 18 m² coin cuisine compris, excluant les sanitaires. Un accueil est assuré en 2 langues étrangères incluant l'anglais.