443 holiday rentals in ARCACHON available
Compare apartments for your holiday in Arcachon
Holiday rental ARCACHON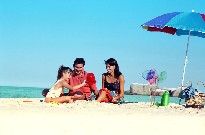 Located next to the vineyards of Bordeaux, between the Atlantic Ocean in the west and the forest of the Landes in the South, Archachon has a privileged location perfect for your next holiday in France.

Arcachon is blessed all year round with a warm climate, visit the golden beaches to relax and soak up the sun or alternatively you can discover the large variety of water sports and activities the beaches offers, fishing, surfing, diving, hiking and biking routes, there is something to suit all tastes and ages.

Described as one of the nicest towns in France, Arcachon boasts untouched, preserved nature which you can discover by taking the popular hiking and biking routes or if you feel like being adventurous you can paraglide and parachute across the beautiful land.

Arcachon has something to offer everyone. With our unique comparison site you can find and compare all availabilities on apartments and holiday rentals to ensure that you find a holiday rental in Arcachon for the best price possible.