216 holiday rentals in CAPBRETON available
Compare apartments for your holiday in Capbreton
Holiday rental CAPBRETON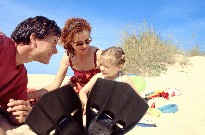 Capbreton, the most ancient and the most important port of Landes, is a dynamic resort perfect for your next holiday…

The beaches of Capbreton offer golden sands welcoming you to relax and soak up the sun or why not try out some of the main water sports and activities hosted by the beach club, there is something for everyone.

Experience the beautiful nature and environment by taking the popular hiking and biking routes through the pine forests or discover the culture and visit the bustling ports and fishing markets or experience the famous festivals of Conte and double Bass.

Capbreton has so much to offer everyone. For a holiday here, use our unique comparison site to search all availabilities on apartments and holiday rentals to ensure that you find the best price.