2 384 holiday rentals in MOLIETS available
Compare apartments for your holiday in Moliets
Holiday rental MOLIETS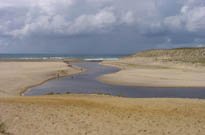 Town and beach resort forming part of the extensive beach section of Atlantic Coast of South West France, Moliets is a perfect destination to spend your next holidays.
Moliets has a traditional centre based around the church and is a pleasant place to take relaxing strolls.

The Golden sandy beach is a perfect place for you to relax and soak up the sun, alternatively, this beach hosts a range of watersports and beach activities perfect for all tastes and ages. Other on shore activities include Kite flying and tree top adventures.

If you enjoy nature, be sure to take a walk through the dense forests or visit the natural reserve of the Courant de Huchet.
Experience the true culture of Moliet and taste the 'Vin de sable' , wine from vineyards and grown in the sand. Come and explore Moliets. With our unique comparison site you can find and compare all availabilities on apartments and holiday rentals to ensure that you find a holiday rental in Moliets for the best price possible.