264 holiday rentals in BIDART available
Compare apartments for your holiday in Bidart
Holiday rental BIDART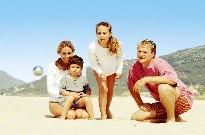 Bidart is a family resort near Saint Jean de Luz, a perfect destination to spend your next holidays.
Its many beaches give you the opportunity to relax and soak up the sun or practice surfing, body boarding, swimming and other water sports. On shore, there are plenty of activities offered to suit all ages and tastes, basket ball, tennis, horse riding, there is something for everyone in Bidart.

Immerse yourself in the culture and visit the many local markets where you can find local food produce and crafts. You can also find cinema, local theatre productions, exhibitions, live music events and many more cultural events and activities.

Come and discover Bidart, with our unique comparison site you can find the cheapest deals on apartments and holiday homes in Bidart and the rest of Aquitane for your next holidays in France.