2 534 holiday rentals in LACANAU available
Compare apartments for your holiday in Lacanau
Holiday rental LACANAU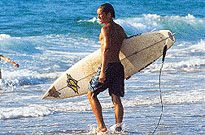 In Lacanau, water and forest are harmoniously combined to compose a truly vibrant nature: waters of the ocean and coastal lakes, emerald pine forests and the charm of the ponds and marshes.

Enjoy the warm weather and choose to relax on the golden sands or discover the watersports and beach activities of Lacanau, from surfing schools to canoeing and fishing the beaches have something to offer all tastes and ages.

The dense forest is an essential component of the beauty of Lacanau and a beautiful place to stroll or bike through, offering you the opportunity to experience and discover the preserved nature.
The town of Lacanau had a lot of culture and leisure activities to offer, cinemas, theaters, local markets, live music, bars and cafes. There is something for everyone.

Enjoy a stay in Lacanau, with our unique comparison site you can find and compare all availabilities on apartments and holiday rentals to ensure that you find a holiday rental in Gujan Mestras for the best price possible.