360 holiday rentals in ARCANGUES available
Compare apartments for your holiday in Arcangues
Holiday rental ARCANGUES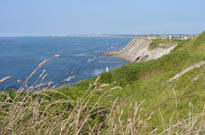 Located in the heart of the Basque country and just ten minutes from Biaritz, is the beautiful hilly village of Arcangues, an ideal destination for your next holidays.

Arcangues has lots to offer you from surfing schools, hiking trails, swimming pools, there are leisure activities for all the families' tastes and ages. If you fancy a more relaxing holiday, take a short trip to Anglet and Biaritz to enjoy the golden sandy beaches and the warm climate.
Discover the heart of the village, bursting with culture and heritage, you can explore the local markets, shops and restaurants all offering fresh local produce from Arcangues.

Come and enjoy the beautiful views of the Basque countryside and the Pyrenees. With our unique comparison site, you can find and compare all availabilities on apartments and holiday rentals to ensure that you find a holiday rental in Arcangues for the best price possible.