421 holiday rentals in BISCARROSSE available
Compare apartments for your holiday in Biscarrosse
Holiday rental BISCARROSSE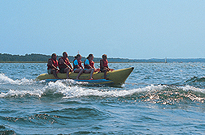 Biscarrosse boasts some of the most beautiful beaches, perfect if you want to sit back, relax and soak up the sun or on the contrary, these golden beaches are home to a number of beach clubs offering a wide range of diverse sports and activities surfing, fishing, volleyball. There is something for everyone.

Offshore, you can also find a wide range of activities available to you and the family. Discover the beautiful town and its landscapes as you orienteer or bike ride. Or why not enjoy the casinos, fairs and markets in Biscarrose.
Submerge yourself in the culture and discover the rich historical heritage of Biscarrose, unlock the stories from the past centuries in the Museum of traditions and history and be sure to see the fantastic architecture of the old churches, Eglise st Martin, Eglise St Bernadette, Eglise Evangelique.

Come and explore Biscarrose! With our unique comparison site you can find and compare all availabilities on apartments and holiday rentals to ensure that you find a holiday rental in Biscarrose for the best price possible.