53 holiday rentals in SOULAC SUR MER available
Compare apartments for your holiday in Soulac sur mer
Holiday rental SOULAC SUR MER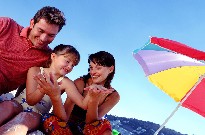 Nestled between the Atlantic coast and the Gironde estuary, Soulac-sur-Mer offers you an ideal stay for your next holiday.

In Soulac sur Mer, Nature has preserved her bounty. Dive into the ocean, explore the footpaths and the riding trails, take in the scent of the pines, savor the regional culinary arts and feast your eyes on the most prestigious vineyards. Soulac sur mer has so much to offer.

Enriched cultural patrimony, discover the history of Soulac sur Mer. From the prehistoric and Gallo-Roman periods, to the magnificent constructions of the early 1900's, Soulac-sur-Mer cites its treasures: Roman basilica, villas of pink brickwork with sculpted eaves, marquises, arabesques, stained glass…

On the earth or in the ocean, Soulac sur Mer offers a wide range of diverse sports and leisure activities for all to enjoy, surfing, sand sailing, paragliding, this destination is perfect for the whole family!

Come and explore Soulac sur Mer! With our unique comparison site you can find and compare all availabilities on apartments and holiday rentals to ensure that you find a holiday rental in Soulac sur Mer for the best price possible.