552 holiday rentals in ANTIBES / JUAN LES PINS available
Compare apartments for your holiday in Antibes / juan les pins
Holiday rental ANTIBES / JUAN LES PINS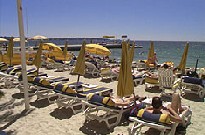 Why not visit Antibes Juan Les Pins? Situated between Cannes and Nice, Antibes Juan Les Pins is a perfect holiday destination…
Antibes boasts 25 kilometres of coastline with sandy beaches, secret coves and busy ports. The beaches offer endless opportunities to practice watersports or to simply relax and enjoy the warm Mediterranean climate.

Stroll through the streets in the old part of Antibes and discover many of its treasures, small artist's workshops, craft fairs and the fragrant smells of simmering dishes will enchant you.
Antibes has an animated nightlife, home to many clubs, casinos, late night shops and street shows.

This quirky little resort has something to offer everyone. Our unique comparison site gives you the opportunity to search and compare availabilities on apartments and holiday homes in Antibes Juan Les Pins to ensure that you find a holiday rental for the best price available.