93 holiday rentals in VILLENEUVE LOUBET available
Compare apartments for your holiday in Villeneuve loubet
Holiday rental VILLENEUVE LOUBET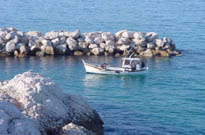 In the perfect location, situated between Nice and Cannes, one will find the charming town of Villeneuve Loubet. The town was created by joining the island village of Villeneuve with the coastal town of Loubet. The town is a true example of a typical Mediterranean village with its narrow winding streets which are adorned with flowers. Numerous regattas and maritime events are common at Villeneuve's marina, which is also a great place to go for shopping, sightseeing or to eat in one of the quayside cafes and restaurants and experience some of the local Mediterranean cuisine.

Many exhibitions take place each year in Villeneuve Loubet at the Museum of Art and History located in the centre of the town. For nature lovers, take a picnic and visit Vaugrenier Park for a number of hiking and walking trails with many other activities available for children.

If you are searching for a holiday rental in Villeneuve Loubet, use our search engine to find the best deals. Compare holiday rentals in Villeneuve Loubet in order to find the best deals for your next holiday on the French Riviera.