6 holiday rentals in SANARY available
Compare apartments for your holiday in Sanary
Holiday rental SANARY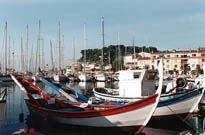 Situated just 10 kilometres from Toulon, the town of Sanary has a great Mediterranean atmosphere -coloured houses, lively terraces surrounded by palm trees and a bustling daily market. Take a tour of the Notre Dame de Pitié chapel which was built in 1560, and head to the top where you can enjoy magnificent views of the islands of Embiez and Rouveau or enjoy a show at the Galli theatre.

For the sun seekers, head to the one of the five beaches in Sanary. Portissol is noted as one of the best, so enjoy the sandy beaches and the wonderful Mediterranean climate that the Riviera has to offer. In Sanary, it rarely rains so enjoy the perfect summer setting by taking advantage of the many year-round sports and activities on offer such as sailing, windsurfing and paragliding.

If you are searching for a holiday rental in Sanary, use our search engine to find the best deals. Compare holiday rentals in Sanary in order to find the best deals for your next holiday on the French Riviera.