458 holiday rentals in LES SABLES D'OLONNE available
Compare apartments for your holiday in Les sables d'olonne
Holiday rental LES SABLES D'OLONNE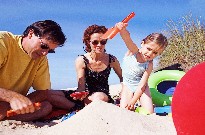 Les Sables d'Olonne is a beautiful resort, and thanks to its pleasant climate, attracts many visitors from all over France and overseas. Les Sables d'Olonne is home to the Vendee globe yacht race, which takes place every 4 years and Les Sables d'Olonne is the start and end point for the race.

Visit the Museum of l'Abbaye Sainte Croix which houses a wealth of modern and contemporary art or discover Penotte Island with its picturesque scenery and small pedestrian lanes.

Come and enjoy Les Sables d'Olonne. Use our search engine to find the best deals and compare the offers in order to find your perfect holiday rental or apartment in Les Sables d'Olonne and the best deals in the North Atlantic Region.