157 holiday rentals in GASSIN available
Compare apartments for your holiday in Gassin
Holiday rental GASSIN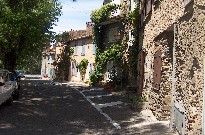 Gassin is situated in the middle of the Saint Tropez peninsula, perched on a hill overlooking a landscape of vineyards, wooded areas, and the town of Saint Tropez. Gassin is described as 'the most beautiful village in France.'

Gassin is enriched with culture and historical heritage, with its narrow streets and picturesque houses, the medieval village really is an unbeatable stop for lunch as all the cafes and restaurants have beautiful, panoramic views of the French Riviera! The new village, built below the medieval village, has recently been awarded the first prize for the best new town in Europe.

If you want to sit back and soak up the Mediterranean sun, there are numerous beaches close to Gassin, including the famous beach Pampelonne.

With our unique comparator, you can search all availabilities for apartments and holiday homes in Gassin to ensure that you find the cheapest holiday rentals in Gassin.