367 holiday rentals in PORT MINERVOIS available
Compare apartments for your holiday in Port minervois
Holiday rental PORT MINERVOIS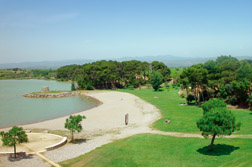 Situated away from the lively coastline, Port Minervois is a destination full of charm and authenticity with its picturesque houses bordering the canal and lush green landscapes. Next to the Haut Languedoc Regional Park, Minervois is a great destination for those who love to explore the great outdoors, with plenty of hiking and walking trails, mountain biking and even rock climbing and canoeing.

The Languedoc region of France, and especially Minervois, is a great place to visit for a vineyard tour and to sample some of the locally produced wines. Sample some of the local cuisine for a real taste of Port Minervois in one of the many restaurants situated in the town centre.

If you are searching for a holiday rental in Port Minervois, use our search engine to find the best deals. Compare the offers in order to find your perfect holiday rental in Port Minervois and the best deals in Languedoc Roussillon.