417 holiday rentals in BALARUC LES BAINS available
Compare apartments for your holiday in Balaruc les bains
Holiday rental BALARUC LES BAINS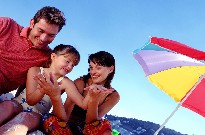 With a privileged location, nestled between the Mediterranean and the Thau Lagoon, Balaruc Les Bains benefits from a warm climate the whole year round. Be charmed by the natural beauty of Balaruc Les Bains, the protected environment and the richness of culture and history. Take the walk "brassins-spinosi" around the peninsula to enjoy the beautiful scenery and the Thau lagoon; admire the oyster beds on the bottom of the water and hear about the legends of the old sunken village.

If you are looking for a more relaxing holiday, then you have found the perfect place as Balaruc Les Bains is the second largest spa town in France specializing in rheumatology or you can just enjoy the warm climates as this destination boasts golden sandy beaches and clear waters.

Discover the treasures of Balaruc Les Bains, by using our unique comparison site, you can search and compare all availabilities for apartments and holiday homes to find a holiday rental in Balaruc Les Bains for the cheapest price!