269 holiday rentals in LES MAZURES available
Compare apartments for your holiday in Les mazures
Holiday rental LES MAZURES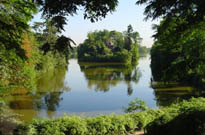 Holiday rentals in Mazures are great for a relaxing holiday. The village is located in the heart of the woods, 17km north of Charleville Mézières. You will be staying in the Ardennes, not far from the Belgian border, in a beautiful setting which is ideal for walks and bike rides.

During your holiday to Mazures, you will be able to enjoy the nearby lake and its beach. Or, for groups, you can head to the high ropes course which is close by. The lake is 150 hectares and offers a specified fishing zone.

Finally, Mazures is an excellent place to stay for visiting local attractions, such as the fortified town of Rocroi. There are many walking routes in Ardennes and if you like cycling, you can join one of the relaxing cycle roads. You will be close to La Meuse, which is a great opportunity to take a boat trip or even rent an electric boat to discover more of the countryside.