Résidence Odalys Jardin d'Artémis (Gassin)
Résidence Odalys Jardin d'Artémis : compare available apartments and find the cheapest!
Good reasons to go there on holiday
Swimming pool

Apartment

Housekeeping available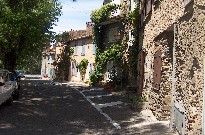 Adresse
Résidence Odalys Jardin d'Artémis
Groupe ODALYSRésidence Le Jardin d'ArtémisAccueil et remise des clés à la résidence Le Clos BonaventureChemin de Saint Bonne Aventure
Résidence Odalys Jardin d'Artémis
At your holiday residence in Gassin a swimming pool is at your disposal. Cats, dogs or other pets are accepted on your holiday place in Gassin. The residence situated in Gassin has a parking where you can park your car for the duration of your stay. At the end of your weeks' vacation, you can decide to opt for the maid service offered as an option by the residence in Gassin.

Price per apartment and per stay (booking fees included)
Our favourites
CAMPING HOLIDAYS
Up to 30% off! Book your holidays in France, 4 and 5* camping More details

Price of apartments located nearby
Comparateur d'avis

235

avis du web
Note basée sur les avis du web suivants :
Did you spend a holiday there? Leave your review by

clicking here

.