52 holiday rentals in SAINTE MAXIME available
Compare apartments for your holiday in Sainte maxime
Holiday rental SAINTE MAXIME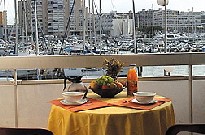 Located just 15 kilometres around the coast from St Tropez, one will find the busy city of Sainte Maxime, bursting with life. With 11 kilometres of sandy beaches on offer, you will be spoilt for choice finding your perfect spot next to the crystal clear shores of the Mediterranean.

Head to the old town to find markets, shops, bars, restaurants and cafes and enjoy the delicious, local cuisine next to the harbour. There are plenty of activities to enjoy in and around the port from the casino to boutique and nightclubs to cinemas. Visit the local museum to learn more about local traditions, folklore and to enjoy some of the temporary and permanent exhibitions about the region of Provence.

If you are searching for a holiday rental in Sainte Maxime, use our search engine to find the best deals. Compare holiday rentals in Sainte Maxime in order to find the best deals for your next holiday on the French Riviera.