8 holiday rentals in SAINT NIZIER LE BOUCHOUX available
Compare apartments for your holiday in Saint nizier le bouchoux
Holiday rental SAINT NIZIER LE BOUCHOUX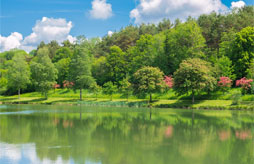 At about thirty kilometers away from the North of Bourg-en-Bresse, Saint Nizier le Bouchoux is a rural place and an ideal village to have some rest. In Ain, the surroundings are composed of quiet landscapes and a holiday rental in Saint Nizier Bouchoux is perfect to enjoy a stay in the countryside. You will also appreciate the peaceful surroundings of your destination, and you can take advantage of a beautiful stroll in this typical village of Ain. It shelters some pieces of heritage, such as a former post office, and a church of Romanic style.

For your leisure activities, during your stay in Saint Nizier Le Bouchoux, you will find the leisure area near the pond of Mépillat. You will find various activities there to keep fit or to enjoy fresh air, with equipment as a swimming pool, a playground for volleyball and a petanque field. On the other hand, you can also take time to enjoy fishing, thanks to the stretch of water of Mépillat, after purchasing the fishing card.

Also, near Saint Nizier Le Bouchoux, set off in the direction of Pont de Vaux in about ten kilometer drive. You will discover an attractive harbour city, and you can make a magnificent river stroll by opting for one of the cruises proposed on the channel of Pont de Vaux. If you prefer the land, a walking tour or a bicycle ride await you by the riverside. Moreover if you are keen on fishing, this rural resort offer good fishing places.

Besides, to discover more leisure activities at the heart of the nature, you can go to the Gorges of Ain. Numerous hiking trails will make you discover the landscapes in the neighborhood, either go off to explore the lake of the Grange du pin. Take advantage of your holidays in Saint Nizier Le Bouchoux to get explore nature.

Compare holiday rentals in Saint Nizier Le Bouchoux for your next stay. Our website compares holidays in Saint Nizier Le Bouchoux and helps you find a special offer for your accommodation.