536 holiday rentals in GREOUX LES BAINS available
Compare apartments for your holiday in Greoux les bains
Holiday rental GREOUX LES BAINS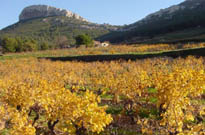 As one of the most popular holiday destinations in the south of France, Provence offers breathtaking beaches, pretty countryside scenery and a wealth of sports and outdoors activities to enjoy. Come to Greoux Les Bains to experience a real taste of Provence.

Enjoy the gorgeous climate and fantastic cuisine in Greoux Les Bains and discover for yourself the true beauty of the south of France. On the coast, one can take part in water sports including sailing, diving, snorkelling and windsurfing or on dry land, enjoy hiking, long walks in the countryside or even biking and horse riding. Provence is the ideal holiday destination that offers something for everyone, and you will leave Greoux Les Bains will unforgettable holiday memories.

Why not spend your holidays in Greoux Les Bains and find the cheapest apartment by comparing the offers. For the best deals on holiday rentals and apartments in Greoux Les Bains and Provence, use our unique comparison site to find the best offers on your next holiday in Greoux Les Bains.