Résidence Maeva Charmettoger (Les arcs)
Résidence Maeva Charmettoger : compare available apartments and find the cheapest!
Good reasons to go there on holiday
Residence with restaurant

Ski High Altitude

Housekeeping available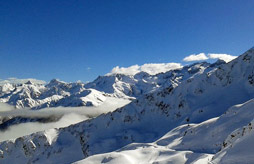 Adresse
Résidence Maeva Charmettoger
Résidences MAEVA Charmettoger Village de Charmettoger Arc 1800
73 700
Bourg-Saint-Maurice
Résidence Maeva Charmettoger
On holidays in Les arcs in this residence, kids will enjoy the activities at the children's club and the entertainments. Cats, dogs or other pets are accepted on your holiday place in Les arcs. For people with reduced mobility, several apartments are suitable for a pleasant stay in Les arcs. If at the end of your stay, you don't want to clean your apartment, you have the option of contracting a maid's service in selected residences location in Les arcs. No need to clutter your crib, you can hire it on-site at selected residences in Les arcs. You will find a restaurant, during your stay in the vocational residences in Les arcs, if you decided to not cook in your apartment. Your apartment in Les arcs, is ideally located close to the shops of the station allowing you to do your shopping without using your car. Enjoy excellent winter sport holidays from your ski holiday rental in Les arcs close to the slopes. Located above 1600 meters high, in high altitude, the ski resort of Les arcs offers excellent snow coverage for high ski holidays.

Price per apartment and per stay (booking fees included)
Our favourites
LES ARCS
Shops nearby from 431 €/week on rental for 2 persons More details

Price of apartments located nearby
Comparateur d'avis

32

avis du web
Note basée sur les avis du web suivants :
Lafrancedunordausud
2 avis
Did you spend a holiday there? Leave your review by

clicking here

.