1139 rentals with properties to rent available on 02/10/2021
Your holiday rental with PROPERTIES TO RENT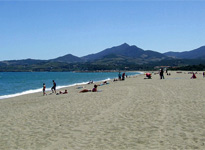 Compare the properties to rent for your next holidays.

Our holiday comparator offers a variety of different properties to rent in France, Spain and Italy for just a little price. These holiday rentals are managed by the tourist accomodation professionals so that you are guarenteed a good quality service. You will have a choice between renting apartments, studios or houses that the owners delegate to tourism specialists.

Go away to France and rent a property

Before choosing your accommodation, compare the offers and find your cheap property to rent. The offers are located everywhere in France, at the sea front, in the heart of the countryside, in the mountains or in the city. You will be able to be within close proximity to the major tourist sites, enjoy sports activities in the heart of the beautiful landscapes along the coast on the French islands or in Corsica. If you would prefer a more active holiday, there are lesuire activities to do in the direction of the mountains where you can also rent a holiday property cheaply.

Holidays in Spain or Italy

Find your accommodation to rent at the best price for your holiday in Spain or in Italy, comparing the different offers have a peaceful trip. In Spain or Italy, you will have the choice between many holiday homes to rent such as apartments or houses which are available from specialized sites.